Cold, rainy and windy day here in Ireland. But warm and nice inside.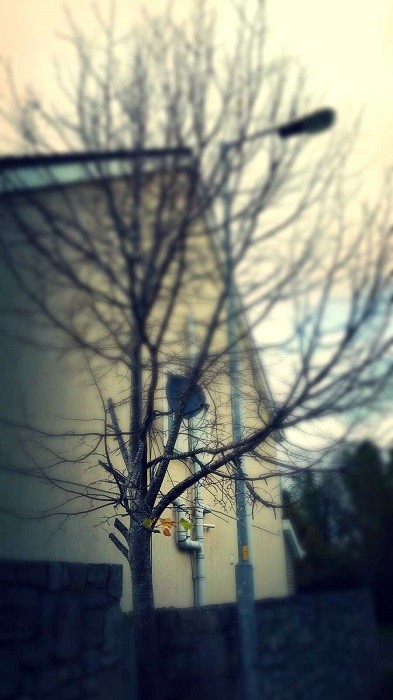 So happy to have two days off 🙂 Time to update my blog and to cook! Not to spend hours and hours in the kitchen. Just to prepare a few recipes that will keep us "safe" and far away from the junk food.
Cooking, writing, cleaning and taking a few minutes to play with my dog and I realized it's almost time for my daughter to come from school and there was nothing ready for her late lunch. And with no chance to finish something in time. As she loves vegetable soups, (especially if I make her croutons) a potato and celeriac cream soup comes to my mind. Easy to put together and ready in no time. And with a secret twist. She will love this silky and smooth cream soup 🙂 And so I am!
I use celeriac (celery root) as I love the fresh and citrusy flavor. And it also gives the soup a creamy texture that it's no need of cream, but as we don't have any culinary restrictions I will enrich the taste with some sour cream 🙂
Ingredients:
4 garlic cloves, peeled, 2 medium (750g) celeriac, peeled, chopped, 4 large potatoes, peeled, chopped, 1 medium brown onion, chopped, 1 carrot, 2 cups vegetables broth, 1 cup water, olive oil, 2 tbs chopped parsley leaves, 1/2 cup sour cream, 4 sprigs thyme, salt and pepper.
Warm oil in a large pot set over medium heat. Sauté the garlic and the onion until soft and translucent but not brown, about 5 minutes. Add celeriac, potatoes and carrot. Pour in chicken stock and half the water. Add the thyme. Bring to a boil. Reduce to a simmer and cook until celeriac is tender, about 20 minutes. Remove the thyme.
Using a stick blender, purée the soup until silky smooth. Return the soup to the pot and warm. Stir in the cream. Season with parsley, salt and pepper. Serve with cheese crostini. And for a fancy, nutty taste and a crispy texture, add some chopped pistachio.
It's absolutely divine!
Summary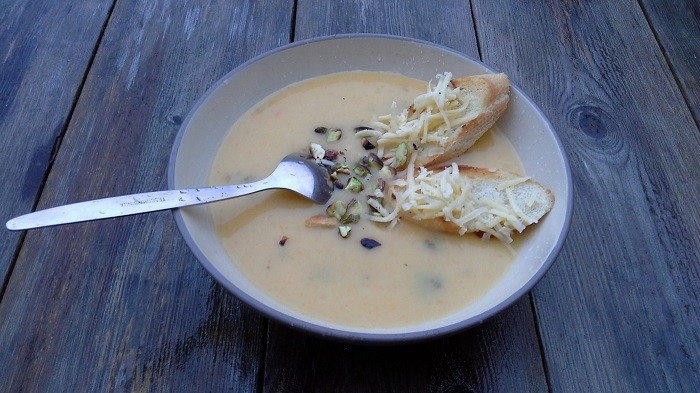 Recipe Name
Celeriac and potatoes cream soup with cheese crostini and pistachio
Published On
Preparation Time
Cook Time
Total Time
Average Rating





Based on 1 Review(s)