Ingredients:
2 tablespoons olive oil, 1 cup finely chopped onion, 1/2 cup finely chopped carrot, 2 teaspoons salt, 2 cans cooked lentils, 1 cup peeled and chopped tomatoes, 2 cups water, chilli flakes, 1/2 cup lemon juice, turmeric, mint, cheddar cheese or parmesan cheese.
Preparation:
Place the olive oil into a pan and set over medium heat. Once hot, add the onion, carrot, and salt and cook them approximately 3 minutes. Add the lentils, tomatoes, water, chilli flakes, turmeric and stir to combine. Increase the heat to high and bring just to a boil. Reduce the heat to low, cover and cook at a low simmer approximately 10 minutes or until mixture reduces slightly. Using a blender, purée to your preferred consistency. Add the lemon juice, mint and set over medium heat for another minute. Serve with cheese and toast bread, pita or any another bread at your choice.
This lentil soup is just perfect in any season!
Summary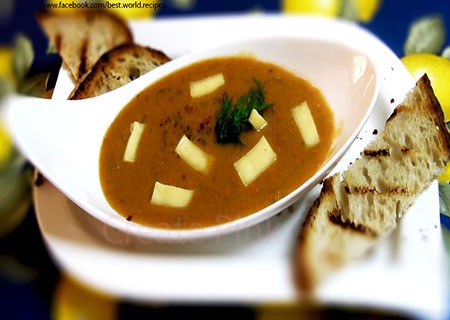 Recipe Name
Published On
Preparation Time
Cook Time
Total Time