Guest post from our friend:  AllasYummyFood
Pirozhki (пирожки), is a generic word for individual-sized baked or fried buns stuffed with a variety of fillings. A common variety of pirozhki are baked stuffed buns made from yeast dough and often glazed with egg to produce the common golden colour. They commonly contain meat or a vegetable filling (mashed potatoes, mushrooms, onions and egg, or cabbage). Sweet-based fillings could include stewed or fresh fruit (apples, cherries, apricots), jam, cottage cheese.
I made mine with spekis ( which is pancetta or bacon) and pork meat. I found that to be the best combination when i make meat ones. I also made some with strawberry jam, they were to die for!
Video Recipe:
To make these lovely Pirozhki you will need:
180 gr of pancetta
400 gr of pork mince
1 onion
500 gr of flour
1 tsp of salt
4 tbsp of sugar
2 eggs – one for the dough, the other for the glaze.
1/4 or 2 Tbsp of active east
150 gr ( half a cup) of oil or butter melted
1 cup of warm milk
To make these you need to do the following:
Step 1 : Activate the yeast. Warm up the milk ( not too hot) and add into the bowl with yeast, then add sugar and leave it aside until its starts bubbling.
Step 2 : In a large bowl, combine flour, salt, 1 egg, yeast with milk and oil or butter. Mix with a spoon to incorporate and then use your hands to really work on the dough.
Step 3: The dough should stick away from your hands and fingers, and the bowl needs to be clean. Once its done, form a ball and place towel over the bowl and leave to rise for 20 min. Check later, see if it has doubled in size.
Step 4: Fry your pancetta with meat and onions. Add salt and pepper to taste.
Step 5: Once, the dough is risen, flatten it again with hands and then form mini balls from the dough. Put some flour on the working surface, so they don't stick.
Step 6: Roll out the mini dough balls from both sides with a rolling pin, add one tbsp of meat filling and pinch from the sides to the top to close them. Repeat with all the dough, i made half of them with strawberry jam ( you have to use thick jam)
Step 7 : Layer the pirozhki upside down on the greased baking tray. Beat one egg and with your cooking brush glaze each pirozhok with egg.
Step 8 : Place them for 15 min at 180 degrees, until golden brown. Leave aside to cool before eating.
I hope you enjoyed this! For more Russian videos please go to my channel and subscribe!!! https://www.youtube.com/AllasYummyFood
Summary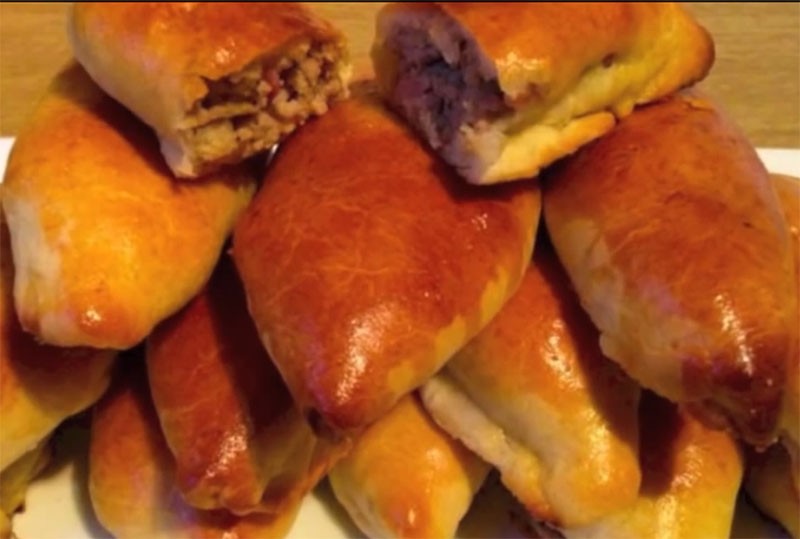 Recipe Name
Published On
Preparation Time
Cook Time
Total Time