The idea of making onion soup never temped me before. Probably because I have never tested one and I hate making well known/traditional recipes I don't know how it should taste. So I've waited, I can say it was a long long wait, to have my first onion soup, nowhere else than Paris. And it definitely worth it!
Not sure if it was only the recipe or the fact that I was finally there. Or because we were extremely tired and hungry after all the running to see everything. Or altogether. But the soup was out of this world!  Creamy and tasty and divine and… it tasted like thyme … well my mouth is watering only thinking and writing about it.
This happened two years ago and since then I was keep postponing the day when I will finally try to make my french onion soup. I was tempted to taste it again in Holland, but I resisted as I wanted to keep the "original" taste in mind and to compare it with my version of onion soup.
I can say that I am delighted I didn't give in as my soup tasted "almost" the same. I am saying "almost" because while enjoying the warm bowl of soup I couldn't see  The Arc de Triomphe 🙂 But I had my glass of french rose wine 🙂
For my recipe I tried to use exact the same ingredients I know the french chefs are using. Homemade beef stock and Gruyere cheese. And, of course, making sure that the onions are caramelized properly.
I avoided the bay leaves. I have to admit I don't like using them. I just cannot stand the taste. Not sure why 🙂
For my beef stock: 2kg of beef bones (I used leg marrowbones), 3 onions, large bouquet garni of parsley and thyme, 2 carrots, cut in half, 1 stalk celery, 1 tsp sea salt. Simmer everything together for at least 3 hours. The long you let to simmer, the better.
For the french onion soup: 1/4 cup unsalted butter, 2 pounds yellow onions, sliced 1/4-inch into half circles, 1 teaspoon sugar, 2 tablespoons all-purpose flour, 3/4 cup dry white wine, 3 1/2 cups homemade beef stock or very good quality store bought beef stock, 2 teaspoons chopped fresh thyme or 3/4 teaspoon dried thyme, salt and freshly ground black pepper, 1 small French baguette, sliced crosswise into 1/2-inch pieces, 3 cups Gruyere cheese, grated.
Preparation: 
In a heavy pot, cook onions, thyme, salt, and butter over moderate heat, for about 35 minutes, stirring frequently, until onions are changing the color. Add the sugar (to help caramelize better) and cook for another 10 minutes stirring frequently. Add flour and stir, cook for about 1 minute. Stir in wine and cook for about 2 minutes. Stir in broth, and black pepper and bring to a boil. Then reduce the heat and cook, uncovered, for another 25 minutes, stirring occasionally.
When ready to serve, toast baguette slices. When almost ready add the Gruyere cheese and let the cheese to melt. Ladle the soup , add more cheese and top with toasted baguette slice.
Summary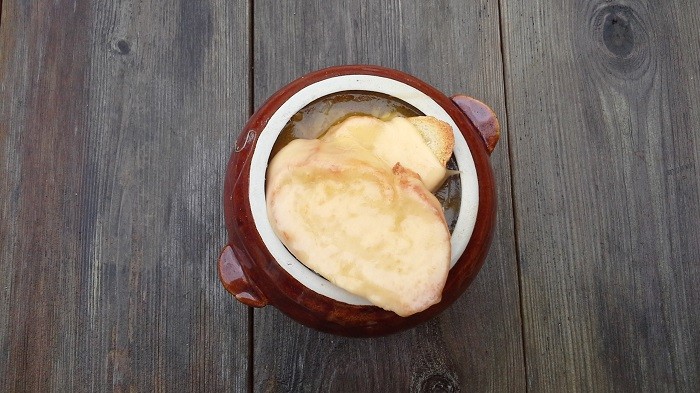 Recipe Name
Published On
Preparation Time
Cook Time
Total Time
Average Rating





Based on 1 Review(s)