If you read about my pumpkin cake recipe you know that, at that time, I was also preparing the pumpkin soup. If not, you can find the recipe  here
Living in Ireland now, and probably many of you know how is the weather in here, a warm bowl of soup is a must in cold and winter days. No fuss recipes, you can use whatever leftovers vegetables you have. The Irish know how to enrich the taste – of any soup – with their tasty Irish butter and homemade brown bread.
As the weather required, we have also adapted to this cold and, sometimes, very unfriendly climate. And now, a bowl of soup, it's a must.
I get bored very fast if I am having the same soup every day and with my love for exploring new flavors, I always improvise and try to come up with something new.
I love fennel and I love pumpkin. And it also happens to have them in the fridge. It has to be roasted pumpkin and fennel soup. Why roasted? Because using roasted vegetables it gives your recipe an extra flavor of caramelized and intensifies the taste.
Colorful and hearty ingredients. Although the flavor of the fennel is mild and discrete, if not a huge fan of the fennel you can substitute it with leeks or onions.
Ingredients:
750g (about 6 cups) pumpkin – cored, peeled and cubed, 3 tablespoons extra virgin olive, few sprigs fresh thyme sprigs, 3 garlic cloves, coarsesalt and fresh cracked black pepper, 1 medium fennel bulb, white part only, thinly sliced, 2 cups vegetable stock, 2 cups water.
Preparation:
Preheat the oven to 450 degrees. Place the pumpkin and the fennel on a baking sheet and toss with 2 tablespoons olive oil, sprinkle with salt, nutmeg, chilli and pepper. Add the whole gloves of garlic and fresh thyme leaves. Roast in the oven until tender, about 30 minutes.
When roasted transfer everything into a large soup pot. Add the vegetable stock, water, sea salt, and black pepper. Slowly bring to a boil over medium-high heat. Cover, reduce to low and simmer for ten minutes. Remove the thyme springs and puree everything with a stick blender. If the consistency of the soup is too thick you can add more water.
Season with salt and pepper and serve topped with cream or coconut milk.
Summary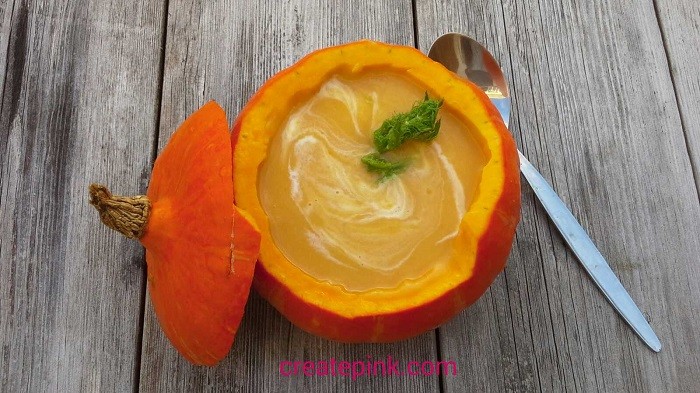 Recipe Name
Roasted pumpkin and fennel soup
Published On
Preparation Time
Cook Time
Total Time
Average Rating





Based on 1 Review(s)