Sunday morning…
Me: "What do you want for lunch?"
My husband: "Anything…"
My daughter: "Nothing!"
Don't you just love them! Looks like I have nothing to do. For anything my fridge is full, for nothing, even better! If it only was so simple… That was in the morning.

Around 11.30am, me relaxed, watching Barefoot Contessa, changing the channels, looking for Jamie Oliver.
My husband: "So what's for lunch? We can go for Chinese…"
Me:"No, the fridge is full of anything!"
My daughter: "Mom, what's for lunch? I am hungry!"
Me: "Nothing!"
OK now to make you see the bigger picture. So my daughter is a big fan of "nothing" these days. Teenager, diet… well you get the idea…
The only time when she is eating without an introductory "fight" is when I am making chicken breast schnitzel. Then she forgets about diet, fat, fried, unhealthy and so on…
As a mom I cannot just stay relaxed and see her fussing around everything, so I have to come up with new and "fascinating" recipes. This time I impressed her (and it's not a small thing) with (that's something that me and my husband love!)… now drums please… 🙂 Spicy Sticky Glazed Chicken Drumsticks.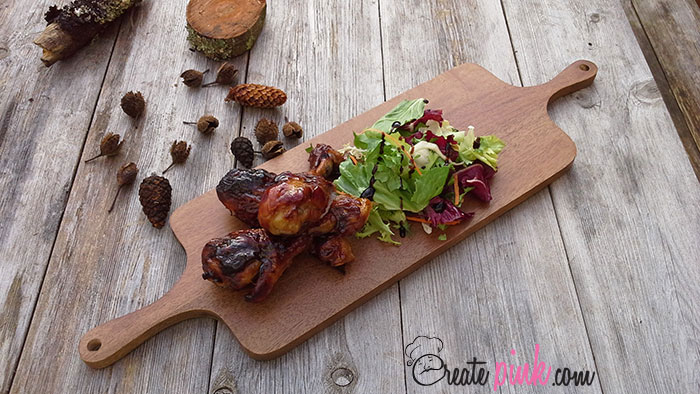 Not to mention that are so so easy to make and the result will please everyone. Even my daughter!
Back to my Sunday morning, while I am making my coffee, I make also the marinade, drumsticks ready, sealed bag, refrigerator 2 hours. Plenty of time to enjoy my coffee 🙂 Then the above scenario 🙂
Marinating the meat is a great way to infuse it with all the flavours that you like. We like garlic and thyme, sweet and also spicy. When grilling the meat, a citrusy flavour works much better for us.
Let's get back to my Spicy Sticky Chicken Drumsticks
Ingredients:
1/2 cup red wine, 1/4 cup honey, 1/2 cup light brown sugar, packed, 1/2 cup soy sauce, 5 fresh thyme sprigs, 5 crushed and peeled garlic cloves, 1 tbsp BBQ sauce, 1 tbsp brown sauce, 1 tbsp mustard, 1/4 tsp harissa paste or 1 tsp cracked chillies, 10 to 12 chicken drumsticks,
DIRECTIONS
Combine the wine, honey, brown sugar, soy sauce, thyme sprigs, BBQ sauce, brown sauce, mustard, harissa or chillies and garlic cloves in a large bowl. Mix well to dissolve the honey and the sugar. Add the drumsticks and the marinate into a plastic bag and seal, squeezing out as much air from the bag as possible. Marinate in the refrigerator for 2 hours.
Preheat the oven to 450 degrees. Line a baking sheet with aluminum foil.
Remove the chicken drumsticks from the bag, reserving the marinade, and arrange them on the baking sheet. Bake until the skin is caramelized, about 35 to 40 minutes.
Meanwhile, place the marinade in a small saucepan. Bring the marinade to a boil, then reduce the heat to a simmer and cook over low heat until thick, about 15 minutes.
Glaze the drumsticks 2-3 times at the time. Make sure to turn few times until it's all coded.
When ready serve them with rice, veggies or a salad. And now everyone is happy! 🙂
Summary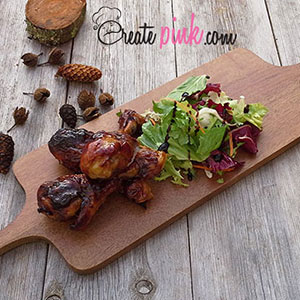 Recipe Name
Spicy Sticky Chicken Drumsticks
Published On
Preparation Time
Cook Time
Total Time
Average Rating





Based on 1 Review(s)