So let's get cozy and enjoy a bowl of soup. The brown leaves and the low temperatures screams for it.
As pumpkin, squash, sweet potatoes have been present in almost every dish I made lately, a tomato soup is in order for today. I don't fancy classic today, and I also want to bring closer a piece of summer, so I am using some roasted bell peppers I have in my freezer. The sweetness in the peppers will balance the acidity of the tomatoes and I am not going to use any sugar to do that. And to make it soft and creamy and to reduce the calories by not using cream or butter, 1/4 cup of rice will work like magic! Trust me.
Seasoned with thyme and fresh basil and served with Parmesan (optional) and croutons I can guarantee  it will make any picky member of the family crazy over this soup. Leave aside the Parmesan and you will have a very tasty and rich vegan soup.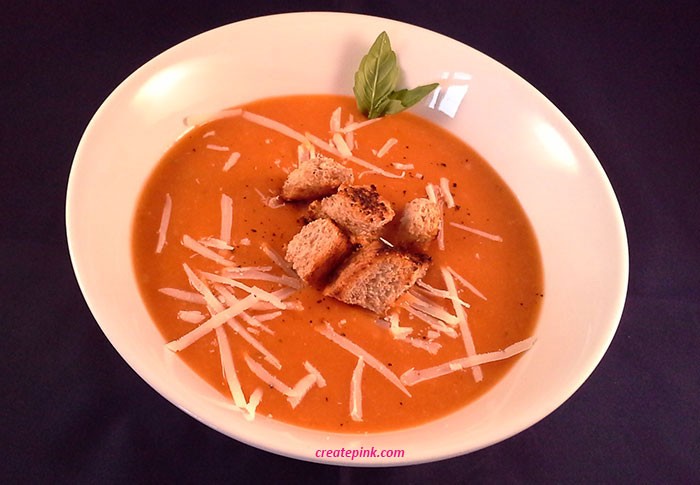 I still don' think it's enough for what I have in mind so small cubes of celery will accompany the croutons and the cheese. And for an extra kick, some finely chopped chilli.
You will have a simple yet luscious flavored soup. It's perfect for a family dinner, but you will impress if served for a fancy event. Just serve in small bowls or shot or other small glasses topped with little croutons and cheese.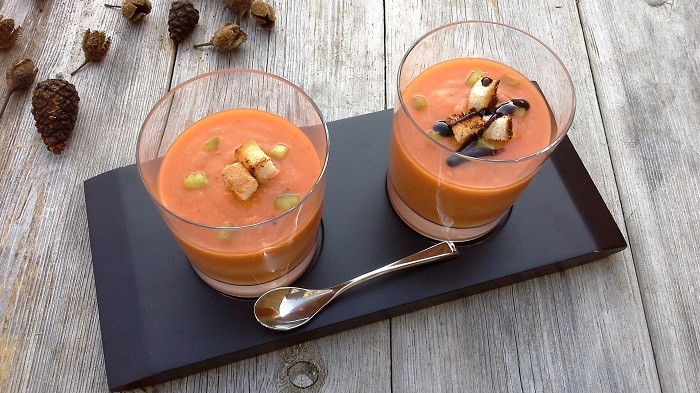 So let's get working 🙂
Ingredients: 3 Tbs. extra-virgin olive oil, 5 large ripe tomatoes cu into cubes, 1 large white onion, 1/4 cup rice, 4-5 roasted bell peppers, 2 large clove garlic, peeled and smashed, 2 cups tomato pasata, 2 sprigs fresh thyme, salt and freshly ground black pepper, 1 1/2 cup water, 3 Tbs. thinly sliced fresh basil, thyme, Parmesan cheese, croutons.
Preparation: 
Heat the oil in a large saucepan over medium heat. Add the garlic and onions and cook until the onions are translucent, about 5 minutes. Add the tomatoes and the rice and cook for 5 minutes more. Add the water, the thyme, the roasted peppers and tomato pasata. Cook for about 25 minutes.
Discard the thyme sprigs. Puree the soup with a hand blender until smooth. Season with salt and pepper.
To serve, ladle the soup into bowls and sprinkle with Parmesan, croutons, chilli, thyme, small cubes of celery. Anything you fancy and enjoy it!
Summary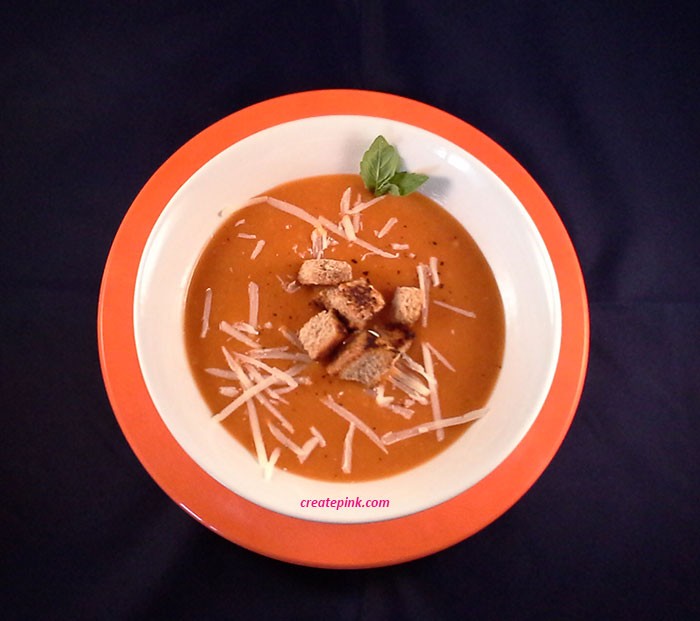 Recipe Name
Tomatoes and roasted bell peppers soup
Published On
Preparation Time
Cook Time
Total Time