Ingredients: 
1 medium buttercup squash (2 1/2 to 3 pounds), half lengthwise, 2 packages fresh tortellini with three cheeses, 2 cups low-sodium chicken broth, 2 cups water, 1/4 teaspoon ground black pepper.
Preparation: 
On a sheet of microwave-safe plastic wrap place the squash halves. Microwave on 100% power (high) for 15 minutes or until squash is cooked.  Meanwhile, in a large saucepan prepare tortellini according to package directions.
Drain and set aside. In same saucepan bring the broth, the water, and pepper to simmer over medium heat.  When squash is cooked enough, scoop out and discard squash seeds. Scrape squash meat directly into blender. Add 2 cups of the broth mixture and blend until smooth. Return to saucepan with remaining broth mixture. Stir in tortellini. Cook for 5 minutes or until heated through.
Summary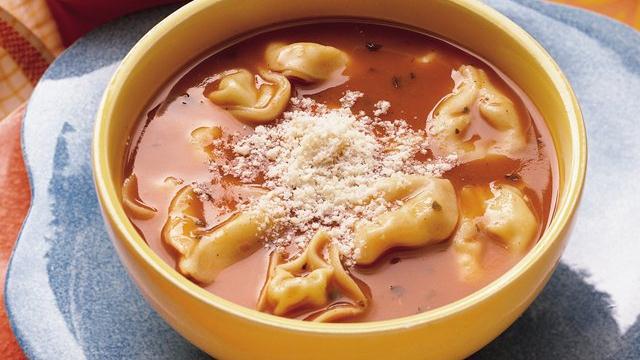 Recipe Name
Published On
Preparation Time
Cook Time
Total Time