There is no such thing like perfect cocktail recipes and for a few years I have been working on ideas and ideal recipes for when entertaining guests. Over the years I was lucky to attend to all kind of events, in different countries  and I was lucky enough''to taste a piece of many cultures''.  Posh, fancy, rustic, all kind of influences and infusions, my taste buds have been and delighted to try on everything. Or almost everything 🙂
My challenge always was to find the easiest appetizers/antipasti recipes. It's not easy thing to please a crowd and to pack a bite with flavours.  I want dishes that are easy to assemble, and that everyone can grab without needing a fork and knife to eat.
A very popular appetizer is bruschetta. Bruschetta lends itself to an unlimited number of toppings, is a great starter or light meal. You can fill bowls with Bruschetta toppings alongside a pile of crostini or grilled bread and let your guests serve themselves. Plus, you can make the grilled bread ahead then just reheat when you're ready to serve, and this Spicy bean mix topping it's even tastier if it's made ahead.
Cannellini are often the bean of choice when making bruschetta, and I am using cannellini beans for my bean dip, but for bruschetta I prefer using a mix of beans and taco mix beans works just fine. It gives a nice chilli kick to this recipe.
I usually avoid using garlic in my bruschetta toppings. It might not be for everyone's taste. I know that there is no bruschetta without garlic, but instead of overpowering the taste with too much garlic, I rub the bread with garlic for a nice bread-scented balanced taste.
I am a huge fan of this recipe. It's for vegans, vegetarians and the meat lovers do not complain at all!
Ingredients:
1 baguette or loaf crusty Italian bread, sliced into ½ inch slices, 1 clove of garlic to rub the bread, 2 tablespoons extra virgin olive oil, plus more for spreading, salt and freshly ground black pepper, 2 tablespoons bell pepper, finely chopped, 2 tablespoons spring onion chopped, ¼ cup chopped celery, 1 can taco mix beans, 1 tablespoon balsamic vinegar, 1 tablespoon chopped parsley, 1 tablespoon thyme.
Preparation:
Rub sliced bread on front and back with garlic, and then spread with a light layer of olive oil, salt and pepper on each side. Place bread on grill at medium heat and toast each side.
In a bowl, combine onion, bell pepper, celery, beans, balsamic vinegar, thyme, 2 tablespoons of olive oil, and a good pinch of salt and pepper. Stir to combine.
Summary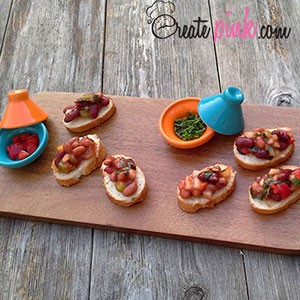 Recipe Name
Spicy cannellini beans bruschetta with Italian bread
Published On
Preparation Time
Cook Time
Total Time