Usually every of my recipes has a story. This recipe doesn't have one. It just started to build up from our need of change, including the #leftoversday
One day I decided I want to have a salad with every diner. We were all complaining about how hard it is to watch our waistline with all my cooking and, as a food blogger testing new recipes all the time, I kinda have to do this. So I wanted to try a different approach and instead for cooking less, (not that would have ever been possible) I'll serve every meal with a huge hearty salad on the side.
Now that's a challenge! I love leafy salads (my husband hates them!) and I am lucky enough to find all organic and fresh leafs in markets, but sometimes especially when you are not serving it with meat or other meal rich in proteins, you want your salad to have consistency, to have body.
Going with the same idea of using the leftovers it happened to have some grilled asparagus and bell peppers which seemed just perfect for my salad.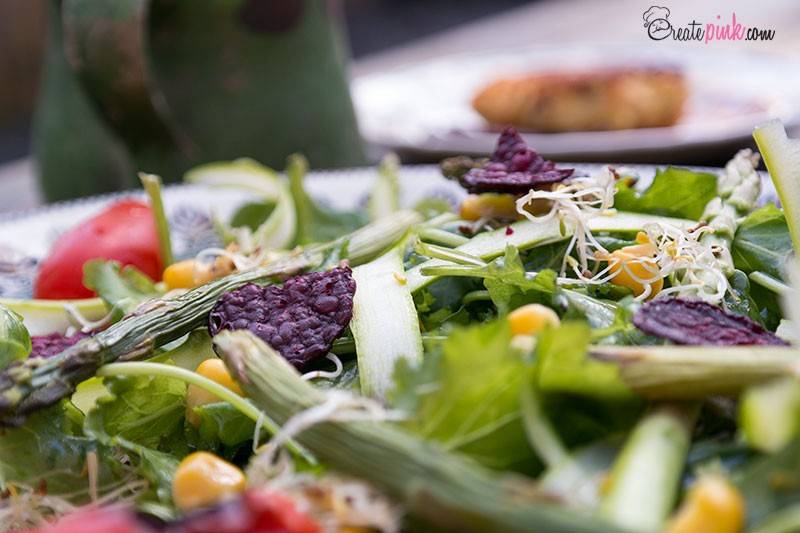 I usually use nuts for crunchiness, for texture, but this time I used beet chips! With this recipe I always have stored few bags of this miraculous ingredient. I bought them for my daughter as a healthy snack and I end up by using it even sprinkled over my yogurt and cereals!
I do have a story for every recipe after all. 🙂
Now back to my salad.
I love this salad because it has attitude and flavour. Not to mention that it's a quite elegant combo. Different colours and textures what's not to like!
Ingredients:
Mix of salad leafs, grilled asparagus, fresh asparagus, grilled or fresh bell pepper, corn (grilled or canned) and beet chips.
Dressing: 2 tbs olive oil, 2 tbs balsamic vinegar, 1 tbs mustard, salt, pepper, 1 tbs lemon zest, 1 tbs lemon juice.
Preparation:
Using a vegetable peeler, thinly slice the fresh asparagus lengthwise. You need thin shavings of asparagus. That's the hardest job you'll have with this salad.
Then just plate your salad starting with the salad mix on the bottom and the rest of the ingredients except the beet chips. Pour over the dressing and then the chips.
Vibrant, refreshing and perfect for any season. Create a story with every meal. That's what I do!
Summary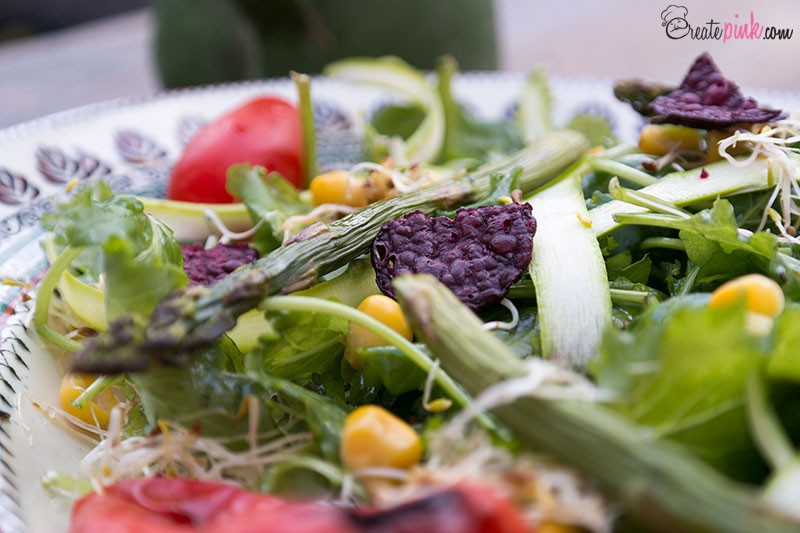 Recipe Name
Grilled asparagus salad with beet chips
Published On
Preparation Time