We all have this "not enough time" issue. I know I do! With fast-paced lifestyle and always struggling to be in many places at once or to solve all the problems that might occur during the day, well…cooking might seem the least of our problems… So then we are all running to a fast food or pre-cooked meals that just take 2 min in the microwave.
I am speedy by nature, but sometimes I like to slow down a bit, take a deep breath and just relax. A glass of wine and a homemade cooked meal is all I need after a week, let's just say, full of ''surprises''…
I am always on the lookout for simple yet delicious recipes. I don't usually take a shortcut when cooking, but there are some ingredients that not only taste the same as the ones homemade, but will save you lots of time, without sacrificing flavour.
Filo pastry is one such item that I always keep in my freezer to help me create fabulous appetizers or sumptuous desserts with minimal effort. From finger food to sweet or savoury rolls this amazing pastry (trust me) is your secret weapon every time! My friends are always impressed when seeing beautiful and delightful appetizers or sweets thinking I slaved all day in the kitchen. Well it's a secret that no one must know. I won't tell 🙂
I usually like to use the filo pastry making spinach and feta rolls, baklava or apple strudels, but this pastry can easily be transformed in anything!
There are lots of reasons you may need some finger food. Then the dough becomes beautiful cups ready to be filled. I love filo cups because they are very easy to make, and you can put virtually anything in them: salads, with or without meat, taco meat and toppings to custard, puddings, whipped cream and fruits. If you've never had them they are light, very fun to eat, and with an elegant air…
The key to making filo cups is to be generous with the butter. If vegan you can replace the butter with vegetable oil spread; otherwise the filo will be dry and pasty.  Here's how to do it:
Ingredients for filo pastry cups: 5 sheets filo pastry, 5-6 tablespoons melted butter or vegetable oil spread.
Preheat the oven to 375 degrees. Spray a muffin tin with cooking spray. Melt the butter or the vegetable oil spread, put one sheet of filo dough on a large cutting board and then brush it with butter. Place another sheet on top and repeat until you have 3 to 5 sheets of dough total. Brush the top sheet too.
Cut dough into rectangles with desired size. You can make them mini filo cups or just another reasonable size. Pick up one rectangle and push the center into the bottom of the greased muffin tin holes.
Bake for 10 minutes or until golden brown, being careful not to let them burn. Cool completely before using. You can keep these up to one month in the freezer.
All you have to do after is to be creative in making these cups something that everyone will remember.
Summary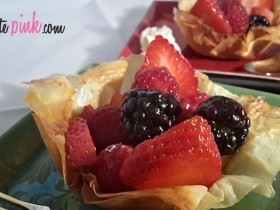 Recipe Name
Vegan filo pastry and fruit tarts
Published On
Preparation Time
Cook Time
Total Time
Average Rating





Based on 4 Review(s)