As I always like to say something about myself in these articles, another thing about me is that I am not a morning person. I think that's the definition anyway… Not necessarily not a morning person, but I find it very hard to "socialize" at least for an hour after I wake up, drink my coffee and read my emails, check out my Instagram account, Facebook etc.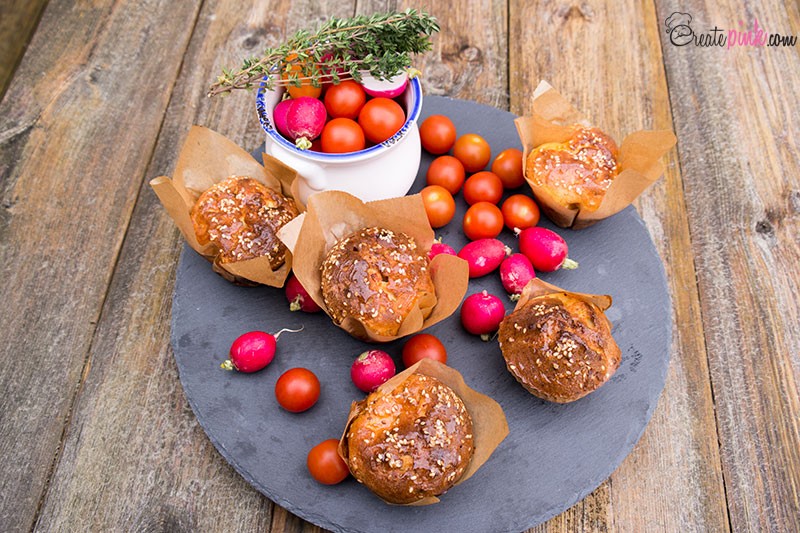 In order to avoid the morning drama and the question: "what's for breakfast?" I like to prepare the next morning's breakfast on the day before. Well almost everything… Let's say fruit, cereals, yoghurt and other fancy "one minute things to prepare in the morning" even a person like me can make them. Anyone can open the fridge or the cupboard 🙂
Maybe you still didn't get the idea that we love muffins, but we really do! Sweet or savoury we love them all. Little packages of healthiness and deliciousness.
I recently started to make these savouries cheesy, super moist and delicious "Cheese and thyme muffins". I usually like to spice them up with some chorizo or bacon, but this time I decided to make them healthier and vegetarian, for my daughter to enjoy them too, without any fuss and complain.
I like to use any kind of cheese and this recipe really helps when you have lots of cheeses in the fridge and no mood to be creative and come up with a new recipe. It happens to me sometimes, too. Usually creative in the kitchen, but sometimes my mind just goes blank. No inspiration, no creative mood.
Probably I forgot to mention that it takes about 15 minutes to whip them up. The hardest part is to wait them bake as the smell is absolutely amazing. The cheese is bubbling in the delicate batter melting, and the thyme, oh glorious thyme just makes your mouth water. Simple ingredients, the wow effect!
Now let's get serious.

Ingredients: 4 eggs, 2 cups cheese (a mix of everything: cheddar, feta, parmesan, brie, mozzarella, cream cheese or anything you have; be very careful with a strong cheese. One cup goes along way), ½ cup onion, chives or spring onion (optional), ½ cup olives (optional), 2 cups flour (1 cup wholemeal or oat bran + 1 cup flour), 4-5 tablespoons chia seeds, 3 tablespoons thyme (dry or fresh), salt, pepper, 1 tablespoons baking powder.
Preparation:
Preheat the oven to 200C and line a muffin tin.
Beat the eggs with salt and then stir the remaining ingredients until combined. If the mixture seems too dry add a bit of milk. The batter should not be very thick. Do not over mix it as you will end up with a chewy muffin.
Bake for about 25-30 minutes or until golden brown.
Knock yourself out and add anything you want! Bacon, chorizo, jalapenos, zucchini, peppers, everything goes just perfect!
Summary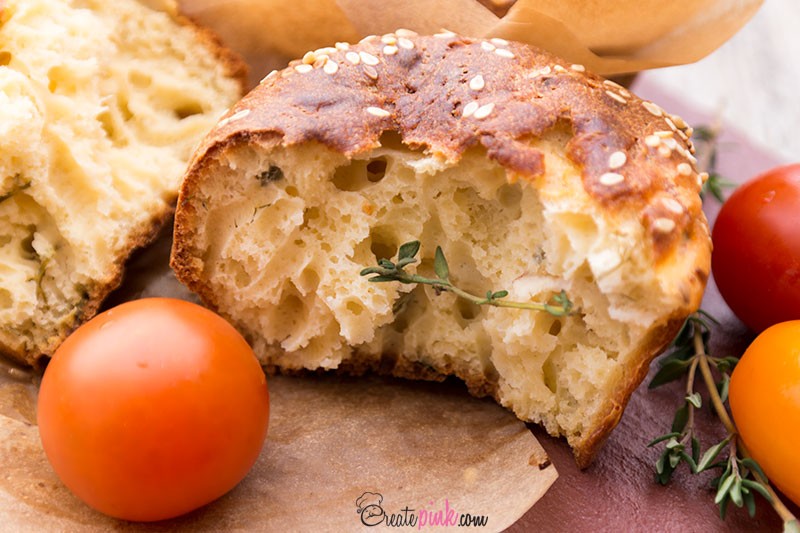 Recipe Name
Savory muffins recipe with thyme (breakfast muffins)
Published On
Preparation Time
Cook Time
Total Time
Average Rating





Based on 1 Review(s)