I am still trying to tempt the summer with new and delish flavours so appropriate for a nice warm summer evening when a glass of wine/lemonade/cocktail and a light salad is all you need. Well 'trying" is the word and here in Ireland summer is something hard to get…

The thing about myself is that I am perseverant (some will say pushy) when it's to get what I want.
By far my fav season is spring; when everything comes to life, when you feel the nature returning from a long long sleep. It's just breathtaking.
There is a story about how much I love spring. As all of my spare time I spend it in the kitchen that's kind of the only place I like to have a saying when decorating. So in our old apartment I created a "spring kitchen". When entering there I wanted to feel like stepping into a garden in full spring. Green floor and yellow walls with patterns inspired by nature. Was just beautiful. It was the only thing I regretted when we moved.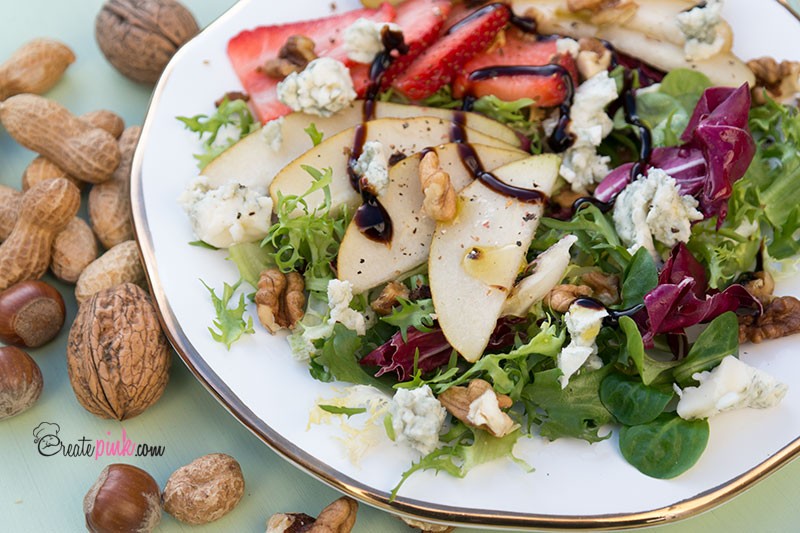 I know you will say what stops me from making my new kitchen like that?… I know I can, but that's something I already did. Like when cooking it has to be a damn good recipe to make it again using the exact same ingredients. I like to play around the recipe and trying new ingredients or new combos.
So no point in recreating a "spring kitchen" again especially when living in Ireland. The green is everywhere you look and I am lucky enough to have an amazing view from my kitchen.
Back to tempting the summer and in the hope of nice warm summer nights, one salad that always comes to my mind is classic "Pear and gorgonzola salad". Easy to whip up and spectacular if you have guests you want to impress. It's crunchy and vivid exactly what you want from a meal.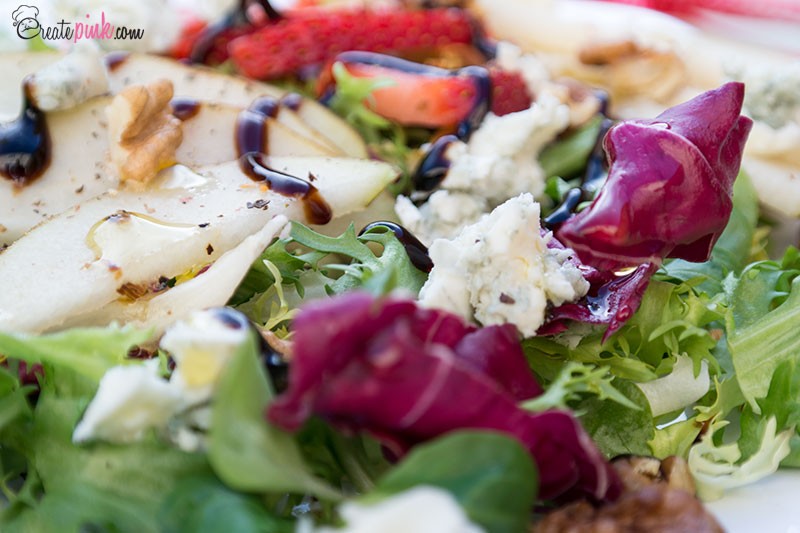 There are some ingredients you can play with. Like the salad you are using or if it's strawberry or pomegranate, but there is a trio that plays perfectly all the time: gorgonzola, pears and walnuts!

Ingredients: 2 pears cored and cut thin slices, strawberries or pomegranate (optional), mix of salad, 100g gorgonzola roughly crumbled, 6-8 chopped walnuts, olive oil, balsamic crème, salt, pepper and I am also using sumac (optional).If not using balsamic crème, balsamic vinegar works just fine. You can make simple vinaigrette and leave the pears to "marinate" for 15 min or so. Then just arrange them on a plate and pour the vinaigrette over the salad.
I am usually skipping the vinaigrette part as I like to keep the individual taste. You can also roast or grill the pears.  Either way it's delicious! And sometimes less is better.
Already feels like summer when making this salad. 🙂 No, not really but happiness comes from within!
Summary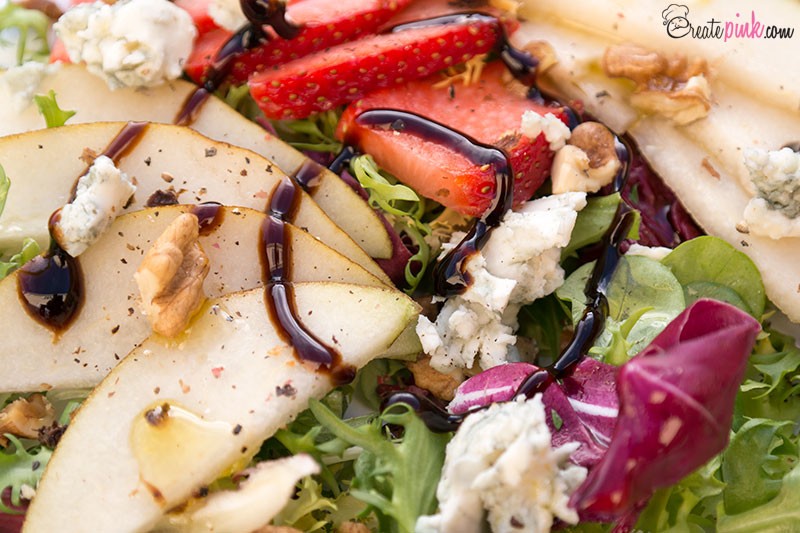 Recipe Name
Best salad: Pear, Gorgonzola and Walnut
Published On
Preparation Time
Cook Time
Total Time
Average Rating





Based on 1 Review(s)