I am "share and taste from everyone's plate" kinda gal. You've seen the most important part, right? I do share! I suppose it should be enough. I don't get it when people looking at me strange when with a smooth move like a feline I "steal" something from their plate.
Don't get me wrong, this does not usually happens with random people, but those around me know that I do like to taste from everyone's food. The reason is that I choose my food, but I would like, as much as possible, to taste everything when going to a new place and I just cannot buy all they serve there.
On the other hand there is my husband who hates that. We've had big fights over this problem I am having. He doesn't share from his food, but he is also never interested in what taste someone else's food might have.
But not me. As I like to invent new recipes and to reinvent classic ones it's a must for me to know and to discover as many combinations as I can. I need to know what pairs well or what combinations I should avoid in the future. Well if you are reading this blog you are definitely into food and I am probably being understood by most of you.
Well… I did share my food, but not when I make this recipe! All started with an experiment. My family loves chicken wings and I've cooked them in a million ways. Recently we've been to a nice place where I had the most delicious chicken wings! Sticky and spicy and sweet and heavenly chicken wings.
Back home I tried my own version of chicken wings.  I do have one glaze that is absolutely delicious (see Spicy Sticky Chicken Drumsticks), but this one it's the best one so far! You can definitely play with proportions here and to marinate the chicken wings you can add everything you want.
My recipe is for 20 chicken wings.

To marinate the wings:
4 tbs soy sauce, 3 tbs lemon juice, grated ginger, minced garlic, salt and smoked paprika.
For the Sticky glaze you need:
3 tablespoons BBQ sauce, 3 tablespoons brown sauce, 2 tablespoons dark brown sugar, 2 tablespoons olive oil, 2 tablespoons honey, 1 teaspoon harissa paste, 1 tablespoon soy sauce, smoked paprika.
To prepare the Baked sticky glazed chicken wings: 
To marinate the chicken wings mix all the ingredients, add the chicken wings and leave them in refrigerator for 30 minutes (or more depending on how much time do you have). I leave them only 30 minutes because everyone is waiting for them so it will be very cruel from me to let them wait much longer. 🙂
Put oven rack in upper third of oven and preheat oven to 425°F. Line a large shallow baking pan with foil.
Arrange the chicken wings in 1 layer in baking pan and roast, turning over once. The chicken wings are cooked in about 35-40 minutes. After 25 minutes start to brush them with the sticky glaze. For a thick and really sticky glaze it needs to be brushed at least twice.
If you still have time and they are nor already finished 🙂 sprinkle the chicken wings with lightly roasted sesame seeds. It does make a difference. With or without sesame this is a finger-licking recipe.
It might take a bit of an effort but totally worth it!
Summary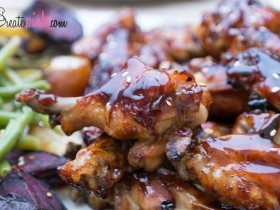 Recipe Name
Baked sticky glazed chicken wings
Published On
Preparation Time
Cook Time
Total Time
Average Rating





Based on 1 Review(s)