Once there was only one place I used to call "home"… Now there are two, the second being Ireland. If I count another place – Malta – where I lived for over 2 years, Ireland would be the third one 🙂 So far 🙂

I wasn't very young when I left my home country and to be honest the most important reason to leave was my curiosity. Our curiosity as my husband is as crazy as I am. Oh sorry, curios as I am…
My home-town was "too small", my country was something I discovered already, it felt like it was time to go and explore the world. It just felt so…
A part of me is still where I've grew up, in Romania. My parents are there, some of my old friends are there.
I made friends all over this world, but the old ones, the ones you've grew up with and know you better than anyone can possible learn about you in a short section of time, they are hard to forget and replace.
When it comes to food, my mother was my inspiration. She gave me this joy when cooking, this passion for making everything from scratch. She showed me what pleasure you may have when cooking and how the home-made tastes better.
I miss cooking with her as I miss her food. Her food is always tastier.  It's comforting, it's different, and it's made with so much love.
Travelling so much I wanted and I tried to take a piece of my childhood, a piece of my Romanian culinary influences.
I am trying also to keep the tradition "alive" for my daughter. It's like a legacy. She needs roots; she needs to know where she was born, although her home is now somewhere else. It doesn't seem so important for her now, well she is a teenager she doesn't care much these days for anything, but I believe when this phase will be over and the brain is back in the place, she will want to know…
I like to cook international food. With no roots, just what I discovered in my journey, but when it comes to cooking for my soul and when I have home sick, I do make some traditional Romanian recipes.
There are lots of Romanian recipes I like to cook and probably I will make a separate section with these, like I will make one for Maltese recipes, but one of my favourite is beets borscht.
There are so many variations on this recipe, but I am always making the same recipe my mother used to make. There is no meat in it or broth, no cabbage like I know they are using in the Ukrainian version.
In Romanian cuisine borscht stands for any sour soup. Prepared usually with fermented wheat bran (which is also called borş), which gives it a sour taste. You can find the recipe here if you want to give it a try http://zesterdaily.com/world/traditional-romanian-sour-soup-a-nod-to-tradition/
If not you can use lemon juice. It's different, but still good.
One ingredient that is required and I cannot find it in Ireland, but it's so appreciated for its special taste in all Romanian borscht recipes is the lovage.
This recipe is vegan, but if you add a dollop of sour cream, well there is a new recipe. It does change the taste. It makes it even tastier! If not vegan do not forget to add a dollop of sour cream!
Ingredients:4-5 potatoes cut in to medium cubes, 1 celery cut in to small pieces, 2 beets (one grated and one thin slices), 1 carrot, grated, 1 parsley root or parsnip, grated, 2 onions, chopped, 1 bell pepper, cut small cubes, 1 Liter of Borscht (if using lemon juice you need the juice from 2 or 3 lemons), 1 Liter of water, some greens (parsley leafs, celery leafs, dill), if you can find – 1 small branch of Lovage (Levisticum officinale), salt, 2 tablespoon oil (any kind of oil it doesn't have to be olive oil), 2 tbs tomato paste.
Preparation:
In a pot, sauté chopped onions on medium heat until golden color. Add carrots, celery, parsley root or parsnip, bell pepper, tomato paste and sauté for three minutes on low to medium heat. Add water and bring to a simmer then add the beets. Boil for 30 minutes then add the potatoes and half of the chopped mixed greens (parsley leafs, celery leafs, dill and lovage). Boil for another 15-20 minutes or until the potatoes are cooked. Add the Borscht, bring to a simmer and boil for another 5-7 minutes. (Is using lemon juice once added stop the heat immediately) Stop the heat and add the remaining green leafs. Cover the pot and leave it for 5 more minutes. Then you can enjoy this spectacular dish. It's absolutely tasty and refreshing.
Being without any meat or broth you can serve it cold or warm.  And don't forget to add a dollop of sour cream!
Summary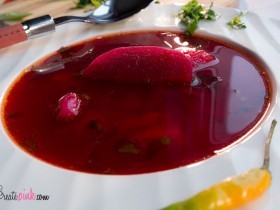 Recipe Name
Vegan Beets Sour Soup (Borscht) - Traditional Romanian Recipe
Published On
Preparation Time
Cook Time
Total Time
Average Rating





Based on 1 Review(s)