It's all about the first impression. You know that feeling when you meet someone for the first time and you already know if it's going to be part of your future or not. Not sure if it's only me, although it might be as it never happened to my husband, but I usually have this feeling when meeting someone new. I kinda feel if and for how long and most of all what contribution/changes/good or bad is going to bring me.
Usually we can choose whom we want in our life … well… sometimes we cannot.  Luckily for me I can consider privileged enough not to be surrounded by too many people I don't want in my life.
With the food is the same. I am a visual person. The food taste better if it make a good first impression. It has to be colorful, vibrant and to smell good.
Usually when creating new recipes I follow the guidance of my previous tasted recipes. Using the ingredients I already like and go further with adding new ones, hoping the aromas will embrace each other.
With my daughter always asking for healthy and grab-and-go recipes and to be honest I do cope with that very well, I am always looking for new recipes where I can combine healthy ingredients trying to give them a twist.
I love grainy salads. The kind you mix up, leave in the fridge and are always there for lunch or as a snack. In my ''strange'' family salad is not a side dish. It's a meal on its own. It's just a hearty salad or it's a steak with veggies. It's not something we've decided it just happened to like it that way.
Back in my childhood my mom used to make a dessert based on boiled pearl barley, orange zest, cocoa powder and sugar or honey. It was so so tasty! And healthy too. Healthier than other options for dessert anyway.
With this memory in my mind I thought why not make a savory salad with barley. It's healthy and as it doesn't have a strong flavor I can easily add everything I like. It's quite versatile and it's really the kind of ingredient that goes perfect with everything.
So, if it goes perfect with everything, I am going to give it a subtle Mediterranean twist.
Ingredients for my Easy Pearl barley salad and dried apricots
1 1/4 cups pearl barley, 5 tablespoons extra-virgin olive oil, 1 teaspoon salt, 1 teaspoon black pepper, 1 cup chopped scallion (from 1 bunch), 1/8 teaspoon cayenne, 3 cups water, 2 tablespoons fresh lemon juice, 1 cup chopped fresh flat-leaf parsley, 1 small yellow bell pepper, 8 cherry tomatoes, halved, 1/4 cup chopped dried apricots, 2 tablespoons capers, 2 tablespoons balsamic vinegar.
Preparation:
Over medium heat, bring a pot of water to a boil. When the water boils, add some salt and the uncooked barley. Simmer on low-medium heat for 30-40 minutes or until tender.
In a small bowl combine the olive oil, salt, pepper, cayenne, lemon juice and the balsamic vinegar. When the barley is half cooled add the mixture over it and let the barley absorb the dressing.
When completely cooled add the other ingredients: pepper, scallions, tomatoes,apricots, capers and parsley.
And there you have a healthy and to ''please everyone'' salad. Feel free to add everything you like. The dried apricots really make a difference in this salad. It's the nice sweet twist to make the salad an ask- for-more meal.
The recipe is a vegan one, but if you wish to serve it next to a steak I think pork or lamb might go just perfect.
Photo Gallery:
Summary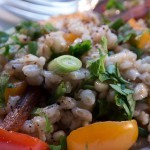 Recipe Name
Easy pearl barley and dried apricots salad
Published On
Preparation Time
Cook Time
Total Time
Average Rating





Based on 2 Review(s)