The winter holidays are now over and I believe that my body needs some time for itself… Not easy thing to do after all the work it has been put through.
Every year I am telling myself that I should not make any excess, but every year I end up with more kilograms. Why? I just cannot resist good food!
And as always, in January I start my diet all over again. Planning the meals carefully and counting the calories it's not my thing. The reason is that I like to have freedom in my diet. If I started it, I know that I have to be careful, but I hate having limits. I will eat whatever I want only less than usual. That's my favourite diet 🙂
As it's still winter, and winter here in Ireland is not very friendly, soup is a must every day. But I am not going to post another soup recipe 🙂 as you may expect.
My daughter requested/suggested (and my body totally agrees), to cook more fish and shellfish. After all the heavy meals is more than welcome!
I am a huge fan of shrimps. I remember first time I cooked shrimps or I better say overcooked it. That was a long, long time ago. Chewy and rubber like texture. No wonder my husband refused to eat. I got offended at the time, but I totally understand him now.
I once had the bad luck to be at a cocktail party and, honestly, the shrimps were worse than those I cooked first time. Not to mention that I had to remove pieces of shell all the time. With a drink in one hand and the ''worse shrimp ever'' on the other, I must have been very amusing for those trying to have a conversation with me. Luckily my husband saved me, as usual 🙂
When cooking shellfish I do have some basic ingredients I believe that is loading the shrimp with more flavours. Onion, garlic, chilli, lemon, dill and… mustard!  For me, mustard it's a must when cooking shrimp or mussels. If you don't like dill you can use parsley. I forgot to mention the white wine 🙂 It's perfect when cooking (if you know what I mean) seafood. For this recipe I added some celery cubes, tomato and red bell peppers. Not a bad combination at all!
Ingredients for this easy shrimp salad/cocktail:
2 tablespoons olive oil, 1 pound fresh shrimp, without shells, deveined, 4 tablespoons chopped celery, 3 garlic cloves, 3 shallots (green onions), finely sliced, 1 long red chilli, seeded and finely chopped, 1 small tomato, 1 red bell pepper, ¾ cup white wine, 2 tbs lemon juice, 1 tbs mustard.
Preparation:
First, saute the onion, garlic, celery, red chilli pepper, bell pepper and the tomato in the olive oil. Add the wine and boil for 3-5 minutes. Add the shrimp and cook for 3 minutes or until just pink. Toss with lemon juice and dill or parsley. And that's it!
This recipe begs for fresh bread, crostini, toast whatever you have in hand, to mop up all the juices in the pan. It's also perfect for a party/cocktail or a fancy dinner 🙂
Summary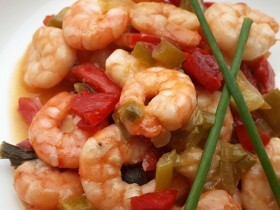 Recipe Name
Easy shrimp recipe with garlic and chilli
Published On
Preparation Time
Cook Time
Total Time
Average Rating





Based on 2 Review(s)