It's officially soup season and I think nothing goes better with a warm hearty bowl of soup, but homemade bread!
And the smell… Soul-satisfying smell of bread baking in the oven. It reminds me of childhood. My mom used to make this all the time. The classic white homemade bread. No seeds and no other dried herbs or cheese.
Growing up and starting my own family I had no time to offer my daughter the same experience. Well, not too often. And anyway my mom always spoiled (or helped) and made this for me. Back then I used to say to her "what's the point in spending so much time doing that, when you can just buy the bread?". Although, I knew that what always kept me closer to the kitchen was exactly the smell of the freshly baked bread. Young and silly me… She used to smile and tell me "You will see…" And she was right…
Leaving my home country and traveling, trying to discover as much as possible and to find something I felt was missing in my existence, I've hold dear my memories and my roots. I've found places and people that changed my life, that thought me how to live my new life and how to embrace other customs, but I still miss the old times… I am getting sentimental now, so maybe I should get back to my bread…
The process itself is quite simple and calls for ingredients usually stocked in the pantry. It just takes patience after you finished the dough and then to resist till it's baked 🙂
Ingredients:
2 1/4-2 3/4 cups flour, 1 teaspoon salt, 1 tablespoon sugar, 1 pkg (2 1/4 teaspoons) active dry yeast, 1 cup warm water + 2 tbs, 1/4 cup oil, tbs chia seeds or any other seeds (optional).
Preparation: 
In a small bowl mix the yeast, salt, sugar, 2 tbs warm water and 1 tbs flour and leave for the yeast to activate and double the volume. For about 15 min. In a large bowl add the remaining flour, the yeast mix, water and oil and start to knead for 5-10 min, or until smooth and elastic.
Cover the bowl with tea towel, and let rise for about an hour. Punch dough down and roll into a long rectangular shape. Or two like a did.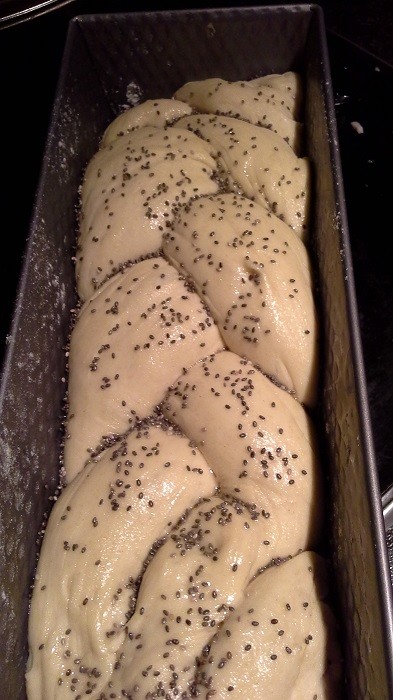 Place on a greased baking sheet, cover and let rise 30-45 minutes, or until doubled. How long this takes will depend on the climate of your house.
Preheat oven to 400 degrees. A hot, fully-preheated oven is key for a brown crust.
Whisk one egg white with one tablespoon of water until slightly foamy. Brush beaten egg white onto loaves and sprinkle some seeds (optional).
Bake for 20 minutes, or until nicely browned. Cool on a wire rack.
It goes well with soup, with stew, my mind flies to a Guinness Irish stew 🙂  (probably next on the menu), sandwiches, homemade jams…well… you name it!
Summary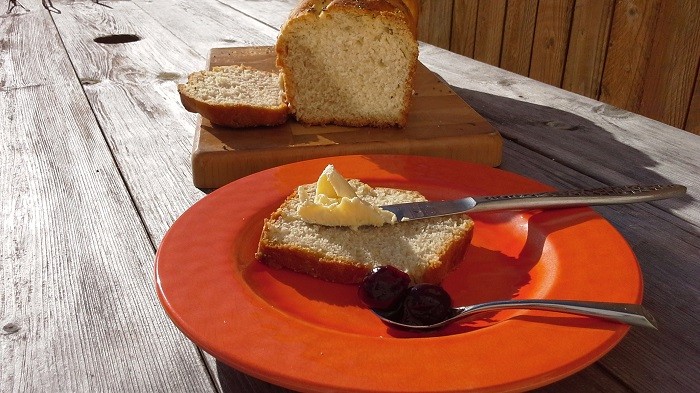 Recipe Name
Homemade bread with chia seeds
Published On
Preparation Time
Cook Time
Total Time