Sweet or savory cooking pumpkin is always fun for me. Fun and challenging.
As pumpkin, in my opinion, is extremely versatile, I do find it challenging to keep the taste of the pumpkin and not lose it with too many other ingredients. What I can say for sure is that cinnamon, nutmeg, honey  and chilli are extremely friendly ingredients and goes perfectly with the sweet flesh of the pumpkin.
Sunny and beautiful day, two pumpkins smiling at me in the kitchen (and I am talking about real pumpkins, not my daughter, my husband nor my dog 🙂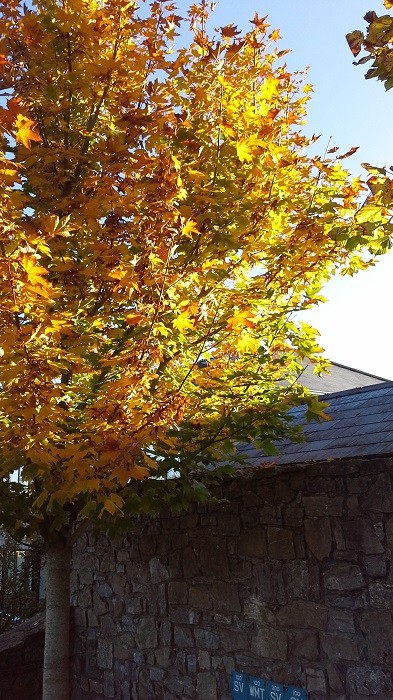 So I feel like cooking. I start with a list and … a coffee 🙂 Pumpkin soup, pumpkin strudel, pumpkin cake and spicy baked pumpkin for salad. It should be enough I might say 🙂
I start by cutting the pumpkin. Oh yes, easy to say, but in reality it required my husband's assistance.
Beautiful slices of scented pumpkin are now ready for baking. Two separate trays. One savory and one sweet. For the savory one, a mix of salt, pepper, chilli, nutmeg, olive oil and just a drizzle of honey; for the sweet one, cinnamon, brown sugar and honey. 45 minutes in the oven. Time for me to prepare the cake mixture.
For the cake I am writing the recipe now, for the soup, strudel and salad, recipes to follow.
That's my no-fuss recipe for cake. Carrots, pumpkin or sometimes only raisins or chocolate chips goes into this easy-to-make-mix for a tasty cake to enjoy with a coffee or hot chocolate. Let it be autumn/fall 🙂
300g self-raising flour, 250g sugar, 1 tsp vanilla, 2 tsp baking powder, 175g raisins soaked in orange juice (I used raisins soaked in pear liqueur), ½ tsp salt, 5 eggs, beaten, 200g butter, softened, 3 tsp orange zest, 400g baked pumpkin puree, cinnamon and nutmeg.
Combine the butter, sugar and vanilla; beat with a mixer until well combined. Add eggs, one at the time and beat well after every egg. Add pumpkin and raisins and mix well. Fold in the dry ingredients: flour, baking powder, cinnamon, nutmeg and orange zest.
Spread batter into a baking pan coated with butter. Bake at 220° for 30 minutes or until a wooden pick inserted into the center comes out clean.
Frosting or no frosting this recipe is just great!
Rest assured the divine smell will bring everyone into the kitchen 🙂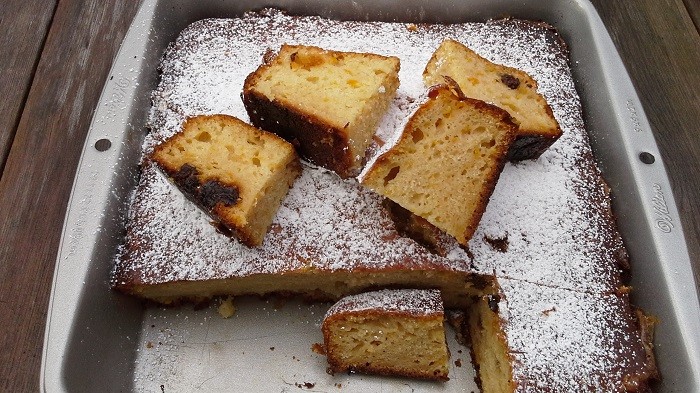 Summary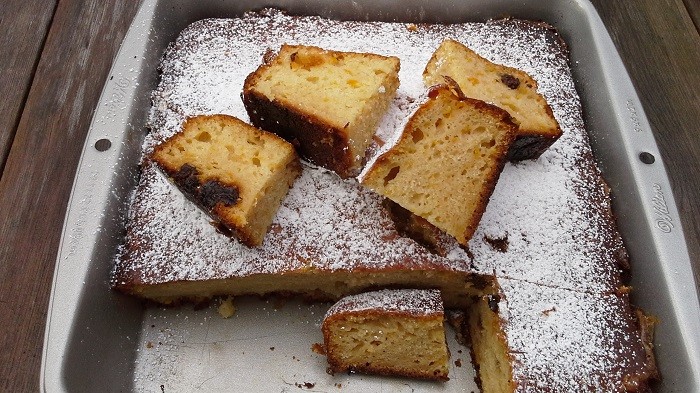 Recipe Name
Pumpkin, raisins and nutmeg cake
Published On
Preparation Time
Cook Time
Total Time
Average Rating





Based on 1 Review(s)