Ingredients:
1 1/2 lbs lamb top round, 4 cloves of garlic grated, for rub, Coarse salt, 1/2 tsp black pepper, 1/4 cup coarse-grain mustard, 1 tsp cumin seeds
For mint sauce:
5 sprigs of mint, stems removed and discarded, 1 small shallot, 1 small clove garlic, 2 Tbs cider vinegar, 2 Tbs olive oil, 1/2 tsp salt, pepper,7 ounces Greek-style yogurt, 2 tablespoons minced fresh dill.
Preparation:
Remove the lamb from the refrigerator about an hour before starting to bring it up to room temperature. Preheat the oven to 350 degrees. Put the salt, black pepper, mustard and cumin in a spice grinder, or use a mortar and pestle to roughly grind
Rub the outside of the lamb with the grated garlic. Then sprinkle about half the rub onto one side of the lamb in a relatively thick layer. Heat a cast iron skillet over medium heat until very hot. Add a splash of oil and put the lamb, seasoned side down. Sprinkle the remaining rub on the other side of the lamb. Fry until golden brown (about 5-6 minutes) then flip. Put the pan in the oven and cook until an instant read thermometer reads 135 degrees F for rare (15-20 minutes). Remove the pan form the oven and let it sit uncovered for 15 minutes. This relaxes the proteins in the meat allowing the juices to reabsorb into the fibers, which keeps the meat moist when you cut it. Place the mint, dill, shallot, garlic, olive oil, and cider vinegar in the bowl of a food processor fitted with the steel blade and puree until it's a coarse paste. Add the yogurt, salt, and pepper and pulse until combined. Transfer to a bowl, cover, and refrigerate for a few hours to allow the flavors to develop.
Summary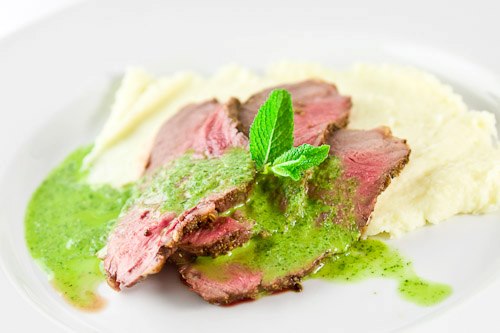 Recipe Name
Roast lamb with mint sauce
Published On
Preparation Time
Cook Time
Total Time