I am not sure if one or two meatless days on week counts, but it's definitely a start. I still enjoy a good juicy steak, but this recipe made me realise that it doesn't have to be meat to have flavour and to feel that your taste buds jump for joy.

And that's not only me. My husband really enjoyed it, too! To make you understand why that's so extraordinary, well he is the type "no salad for me", "no vegetables for me, please" 🙂 But if he said "yes" and he came into the kitchen to "steal" or ask for more, for me it means the recipe is a success!
I have to admit that, a couple years ago, almost every time I came across to a vegan recipe I did not paid too much attention. I knew that's something I might never need. All of my friends were meat lovers; my family was/is, too so I couldn't see any reason to try vegan recipes. That was before. Now I have vegan friends and also my daughter is at that faze when she is vegan or vegetarian today and tomorrow she ask for pork chops or steak.
So I have found myself in the situation where my freezer was half full with peas! Not sure how that happen, but I might have an idea. I probably (definitely) bought it as I am the only one who's buying groceries. And with the Christmas coming I really need space in my freezer. So I have to get rid of some of the peas.
Why not try something vegan. I love to cook and I love to cook everything. To "invent" and to develop new recipes where I can use all I have in my fridge or pantry, I like even better. I always add new flavours, spices, ingredients for a twist to a boring or tasteless recipe.
Today is vegan peas and chia burgers. Prepare yourself to be impressed!
Ingredients:
3 cups peas, 2/3 cup finely chopped dill, 2/3 cup finely chopped spring onion, 2 tbs oil + plus 4 tbs for frying, 4 tbs chia seeds, 1 tsp chilli, 1 tbs finely chopped mint, 5 tbs bread crumbs, salt and fresh pepper, 2-3 tbs water.
Chia gives a nutty flavour and the bread crumbs helps bringing all the ingredients together as we don't use egg which usually does this work.
Preparation:
Boil the peas for about 5 minutes. Drain and place it in a food processor. Over the half boiled peas add the spring onion, dill and mint. Pulse a few times for the peas to break down. Do not puree it! Let it have a bit of texture.
Place the peas mix in a bowl and add oil, chilli, chia seeds, salt, pepper, bread crumbs and 2 tsp. water. Refrigerate for 30 min.
On a flour-dusted surface, divide and form into golf ball size balls and flatten into patties or as you can see in some of my photos, you can create an amazing vegan appetizer. Just form small fritters or nuggets. Place in the fridge for another 30 min.
Heat 4 tablespoons oil over medium-high heat. Fry patties 4-5 minutes per side until browned and heated through.
Vegan burger with chia seeds and peas Photo Gallery:
Summary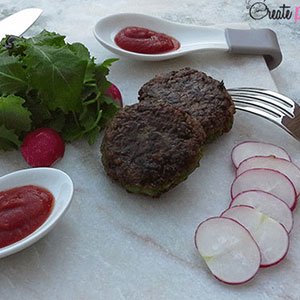 Recipe Name
Vegan burger with chia seeds and peas
Published On
Preparation Time
Cook Time
Total Time
Average Rating





Based on 3 Review(s)