I don't know what's happening with me lately but I dream myself in a bakery where I am buying lots of cakes , but I just cannot find the one I am craving for! So weird! There is always something missing. And the dream seems so real that when I wake up is like I was in a marathon running and running but did not manage to get where I supposed to. It's exhausting! Not to mention that if I cannot find the cake in my dream, I definitely have to make it! It's a must 🙂
This morning I wake up with a lemon cake kinda taste in my mouth. The cake I couldn't find in my dream. I could even feel the taste supposed to be like. It was scary-real.
I suppose that craving lemon cake was actually a good thing as I once had a slice of lemon cake in Paris in a Starbucks and it was so decadently tasty and moist and sweet and zesty and citrusy and sour and did I say moist and juicy? I think I used almost all the adjectives. I still have a few in mind but no worries I'll keep them for the next cake. And I don't think it was Paris to take all the credit.
So, since I had that moist and juicy and… (Gotcha! I'm not mentioning other adjectives) I was keep saying that one day I will try to make that lemon cake, but was never the right time. Now I think it's a good time to make it. My subcontinent told me so! It might me a sign as I am having these weird dreams. And my cake is going to be soaked in tasty Limoncello syrup. It just feels like… I feel a bit nostalgic over Malta. With all the rain here in Ireland and seeing the weather back there… Well, there were 2 beautiful years… I will post some of my Maltese culinary experiences in the coming weeks.
You can read here about Limoncello. http://en.wikipedia.org/wiki/Limoncello
Said and done. Lemon and yogurt cake for today. Yogurt checked, lemons checked, eggs checked and the rest is always there. And I am going to bake it in a loaf pan. That's how it was the one in Starbucks and that's what I want to recreate.
The reason I am using yogurt is to keep the cake as moist as possible. It also gives the cake a tartar twist so well balanced with the sweet lemony syrup I am using after the cake is baked.
I dropped some raspberries in the cake more for the color. Although the combination is super tasty, but I didn't want to transform it in a lemon and raspberries cake.
So to bake this awesome lemon yogurt cake with Limoncello syrup you need:
1 cup plain yogurt, 1 cup sugar, 4 eggs, 2 teaspoons baking powder, 3 teaspoons lemon zest, grated, 1 1/2 – 2 cups all-purpose flour, 1/2 teaspoon vanilla extract, 1/2 cup vegetable oil, a pinch of salt, raspberries (optional)
For the syrup:
1/3 cup fresh lemon juice, 1/3 cup sugar, 2 tablespoons Limoncello and 2 tablespoons water.
There is anything not to like!
Preparation:
First of all preheat the oven and prepare the pan. Sift together the dry ingredients: flour, salt and baking powder. Leave them in a bowl.
In another bowl mix the yogurt and the sugar. Add the eggs, the oil, lemon zest and vanilla making sure is everything well incorporated. Combine the dry ingredients without over stirring.  Pour the batter in the pan and bake for 40 minutes or till testing the cake the taster comes out clean. It might take 40-50 minutes.
While the cake is baking you can prepare the syrup. Mix the lemon juice, the sugar and the water. Cook until the sugar is well dissolved and the syrup is clear. Leave the syrup aside and when is half cooled you can add the Limoncello.
When the cake is cooked leave it to rest for 10 minutes and with a toothpick poke the cake and pour the syrup over it. The cake has to be warm. Let it cool and to soak all the zesty flavored syrup. Let it cool.
Now all you have to do is to make yourself a coffee/tea/cappuccino and enjoy this unbelievable tasty cake.
Summary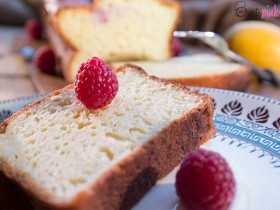 Recipe Name
Lemon yogurt cake with Limoncello syrup
Published On
Preparation Time
Cook Time
Total Time
Average Rating





Based on 1 Review(s)